One City One Website One App
ONE CITY–ONE WEBSITE WITH MOBILE APPLICATION
Web portal and Mobile devices enable citizens to provide timely geospatial information to contribute to scientific understanding, ongoing knowledge of the city. Several apps and platforms are being developed to efficiently gather and manage these data. Citizen apps and platforms are related to different user bases, project's durations, aims and goals. The common Web Portal & Mobile Application will also allow engaging with citizens through the use of social media and blogs, online poling platform.
The Web portal and Mobile Application will enable citizen of Davanagere city to get all the information of various ongoing activity, citizen also share the reviews and feedback on the particular issue through Web portal and Mobile Application.
Citizen of Davanagere city can use this web portal and mobile application as a common platform of information dissemination about Davanagere City and to deliver services online including payment of bills.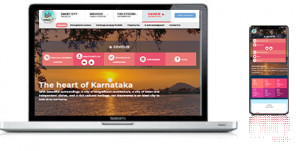 One single website to link all Government departments and Corporation in the city.
Facility to have all Online transaction-2 way communication system.
Easy and Convenient complaint registration and tracking.
Mobile App- Majority of website functions to be on this Mobile App.
The mobile app is available in Kannada and English.
Features
City wide Collaboration
Grievance Redressal
API Integration
Citizen Services
Mobile Application
GIS Integration
City Dashboard
Information Kiosks