The Command & Control Centre will serve as a unified facility from where various Pan City ICT solutions will be operated and monitored. The key objectives for establishing the Command & Control Centre are as below:
Monitoring and managing traffic flows in the city and various other systems related to traffic management.
Monitoring of live video feeds from surveillance cameras and performing analytics, post event analysis, etc.
Monitoring of dashboards for the following functions:

Traffic flows across various junctions
Traffic enforcement statistics and analysis
Performance of buses vis-à-vis schedules, etc.
Occupancy status of parking lots
Overview of citizen services applications and delivery status
Summary of citizen grievances and resolution status
Environmental parameters across various locations
Results of citizen polls/surveys, feedback, opinion

Managing the interaction with citizens through call centre
Initiating/managing citizen polls, surveys, etc.
Monitoring functional/health status of various equipment/systems installed in the city.
Monitoring and Managing Street Lights, Solid Waste Management System, Water Quality Monitoring System etc., through integration with the respective systems.
Coordinate with other agencies/departments/stakeholders for seeking their interventions, as required.
Key Stakeholders & Data flow
Functional Block Diagram of the Proposed Solution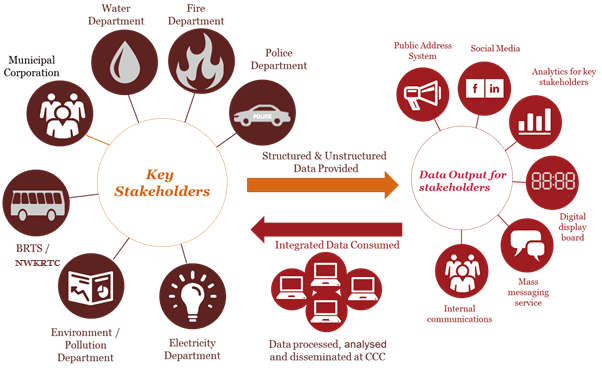 Davanagere Smart City Project envisages deployment of following components to achieve the objectives:
Deployment of various sensors (environment and weather sensors) throughout the city to improve situational awareness
Deployment of Public Address System & Panic Button with Emergency Call Box to enhance public awareness and emergency response.
Deployment of Various Cameras in municipal limits to improve various civic services like Solid Waste Management, Tahbazari Violations, etc.
Deployment of Variable Message Signboards for Public Information.